---
CATALOGING PRINTOUTS OF ELECTRONIC RESOURCES
Special Materials & Procedures
BACKGROUND:
Use these procedures to catalog printed copies of electronic resources. The description in the record is based on the the electronic resource. Details about the printout are recorded in the 533 field.
TYPE OF RECORD

All websites are considered published--Input a

FORM OF ITEM

Input r not s.

DESCRIPTION

The bibliographic description in the record is based on the electronic resource. Code 006 and 007 as usual. Do not, however, code a GMD since 245 $h reflects the reproduction not the original website.

533

Code a 533 describing the printout. Describe the item as Printout in subfield a.

Example:

533 Printout. $b New York, NY : $c Columbia University, $d 2005. $e 30 leaves : ill. ; 28 cm. $n Printed from website (viewed Oct. 27, 2005).

856

Code an 856 with second indicator 1 (version of resource)

If the URL is no longer valid, code an 856 with second indicator blank and |z This electronic address not accessible when searched on [date]

Assign Work letter "a" if the item takes LC classification.
Bibliographic record example: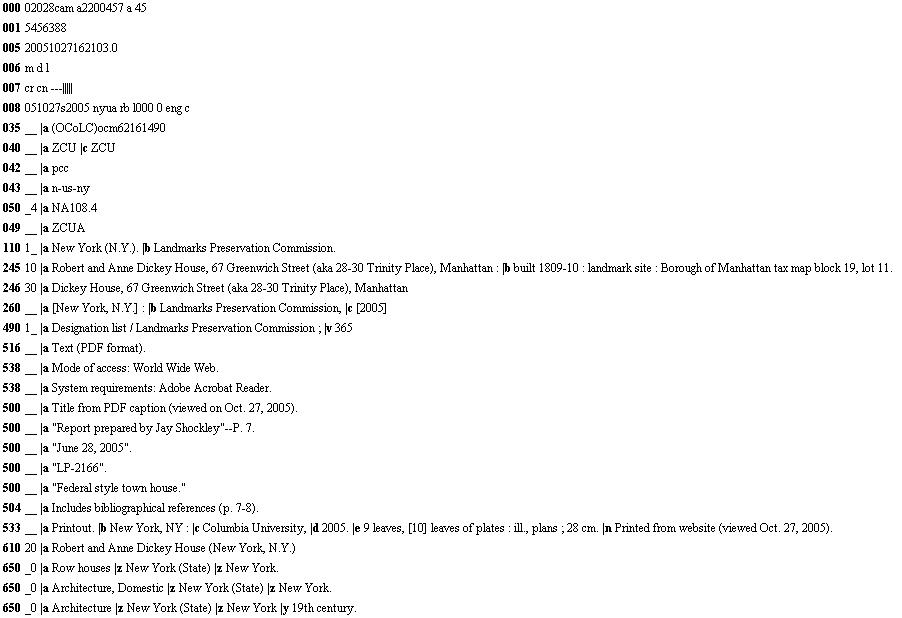 Return to CPM Table of Contents
---
Last updated: 02/15/06 kmh