---
BOOKPLATES
BACKGROUND
Books purchased from certain gift funds beginning with "6" must be plated with special bookplates. Items requiring bookplates with those "6XX" fund code numbers corresponding to the name of the bookplate are listed in the tables below. The name of the plate and the corresponding fund code are noted on the Gift Plate line of the T2 form by acquisitions staff.
Occasionally bookplates are used when the books themselves have been given as gifts, rather than the funds with which to purchase books. The names on these plates (e.g. Salisbury, Said) will not be found in the tables below, as there is no fund code associated with the gift. This type of plate is used only until the gift books have been processed. After a review of gift requirements documentation, many book plates were discontinued in Spring 2009.
PROCEDURE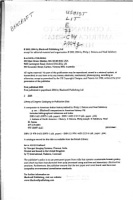 Copy the plate information from the T2 onto the verso of the title page at the top left hand corner, using the appropriate cataloging abbreviation from the tables below. The plate information should be written on an angle and in such a way that it cannot be confused with the cataloging location.
In cases where it is difficult to make out the name of the fund that should be written in the book, or where uncertain of the spelling, the following tables can be of help. If the plate name on the T2 is completely indecipherable, or is missing, use the table in section IV below to find the fund code from the T2. You can then locate the corresponding plate name and the abbreviation that should be used on the t.p. verso.
TABLES
FUNDS & PLATES IN PLATE ABBREVIATION ORDER
Fund Code
Abbreviation on T.P. verso
Full Text
6766B
BOYER
BOYER FUND
6895B
BOYER MED
BOYER MED HIST
6088BB
COWAN
COWAN BOOKS
6152B
FALLON
FALLON GIFT
6760B
MARY VISCHI
MARY VISCHI MEMORIAL FUND
6569A
NADEL
NADEL GIFT
6006B
ROSE VISCHI
ROSE VISCHI MEMORIAL FUND
6496B
SOSNOW
SOSNOW MEMORIAL FUND
6477B
WITTENSTEIN
WITTENSTEIN GIFT
FUNDS & PLATES IN FUND CODE ORDER
Fund Code
Abbreviation on T.P. verso
Full Text
6006B
ROSE VISCHI
ROSE VISCHI MEMORIAL FUND
6088B
COWAN
COWAN BOOKS
6152B
FALLON
FALLON GIFT
6477B
WITTENSTEIN
WITTENSTEIN GIFT
6496B
SOSNOW
SOSNOW MEMORIAL FUND
6569A
NADEL
NADEL GIFT
6760B
MARY VISCHI
MARY VISCHI MEMORIAL FUND
6766B
BOYER
BOYER FUND
6895B
BOYER MED
BOYER MED HIST
---
Return to CPM Table of Contents
---
last updated on 18 March, 2009 /{cls}